WELCOME TO THE SALOON
ONE GANG
ONE VISION
ONE GOAL!
...where all great plans are concocted.
Every bank robbery started with a hair-brained scheme. But we aren't really experts at that sort of thing around here, so perhaps we best stick to bidniss.

We create comprehensive strategies - a little bit of the old, a little bit of the new. We've got all the right ingredients to mix up the perfect cocktail for your customers.
The Old & The New
Your image needs to be tailored to your audience. We take the best of the Old and New Media to create an irresistible and satisfying mix for your customers.

You want your Martini with vodka? We've got a full bar...

You've got some discerning customers who prefer the traditional gin? Yeah, you guessed it, we got that too...

...shaken, stirred, rocks, or neat? Whatever the message, we'll match it to your market. When your marketing approach integrates a variety of methods, your message will be the talk of the town.
---
Gin & Tonic
Direct Mail
Guerrilla Marketing
Print Media
Billboards
Direct Engagement
Lasting Brand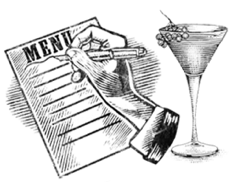 The Martini
Social Networking
Viral Marketing
Crowdsourcing
Search Engine Optimization
Organic Engagement
Interactive Brand
The Gang's All Here
A successful posse needs to have a little bit of everything - so we decided to get a lot of everything, just to be safe. A key component to our success is the integration of our gang. You've got one point of contact and we do the rest. No more shopping around, no more coordinating all the elements - we do it for you.

From brand creation, to online presence, copy writing, print, ol' post office routines, you name it, we do it in house.

Worried about compliance, governance or business strategies? We've got JDs, MBAs, and MAs that are mainstays at this saloon. We've got all sorts of backgrounds and all sorts of specialties, all concentrated on getting you where you want to go. One gang, one vision, one goal.
---
Let's Get 'Em, Boys!
A good plan with poor execution is basically a bad plan. From the moment you begin work with us, we've got your back. After design and development, we'll work with you during implementation, and farther on down the trail. We offer various packages that have a maintenance option, so you're never up the creek without a paddle.
---